We are back in Tucson after over a month on the road.
18 States
36 Days on the road
61 Gun Shops
9 Firearms Museums
6 Gun Shows (in 6 states)
9,000+ miles
640 gallons of gas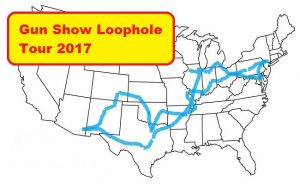 We visited Gun Shows on Weekends, and new Gun Shops each day. We toured the Bannerman Castle, and many of the firearms museums across the USA
Stay tuned to the Daily Gun Show for updates each day, reviews of the Gun Shops and Gun Shows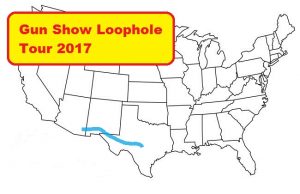 First Leg: Tucson – San Antonio
Sept 3rd – 5th
Drove out to meet up with Edge4006 and visit San Antonio, Texas Gun Shops. The hurricane had just hit Houston so gas was scarce which added excitement to the trip. Getting gas in the middle of the night helped with avoiding lines. We visited 6 shops, 3 ranges and a few surplus stores.
Collectors Gun Exchange

Top Brass Surplus
---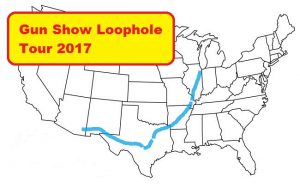 Second Leg: Texas – Illinois
Sept 6th – 9th
Decided to head north after San Antonio because of the gas situation in Texas. Had a water leak in Texas near Arkansas. So I stopped and replaced the water pump on the van, It took all day, and got us behind schedule. So we had to drive straight through to Illinois
---
Third Leg: Transmission Replacement ($3,000)
Sept 10th – 13th
While in Illinois we met up with Daily Gun Show Podcast co-host Dan-O, together we attended ai Illinois Gun Show and a few Illinois gun shops. Unfortunately while driving around, the transmission died on the Van and we needed to get a new (rebuilt) one installed (for $3,000)
Stayed in Chicago, working on updates and video reviews. Had to have a new Credit Card Sent to me while the new (rebuilt) transmission was installed (3 Days)
---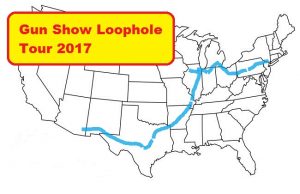 Fourth Leg: Chicago to New York
Sept 14th – 17th
Decided to continue on to the Bannerman Castle in New York state. We headed east through Indiana, Michigan, Ohio, Pennsylvania and into New York
Firing Line, MI

Veterans Museum – OH
Met up with Jon from Gun Channels and toured the Bannerman Castle and Pollepel Island in the Hudson River. We gathered much video and many photos so stay tuned for lots of stories of the castle and Bannerman
---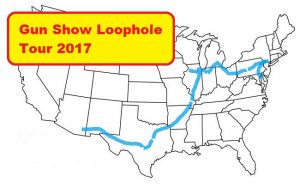 Fifth Leg: New York to Washington D.C.
Sept 18th – 20th
Met up with Marco in Maryland / Washington D.C. toured the NRA Museum and checked out some Maryland Gun Shops. Then stopped by the ATF Technology Branch in West Virginia
ATF Technology Branch, WV
---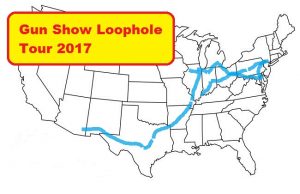 Sixth Leg: D.C. to Ohio to Indiana Gun Show 
Sept 21st – 23rd
Drove through Maryland, West Virginia and Ohio on our way to the Gun Show in Indiana. Met up with Scott (Pink Panther) in Ohio and in Indiana  we reunited with one of the Original Gun Websites crew (from 1997) then south to a Tri-State Gun Show
Rural King, OH
Highsmith, IN

Indiana Gun Show

Tuppers, IL
---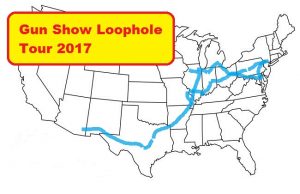 Seventh Leg: Indiana to St louis to Missouri Gun Show to Memphis
Sept 24th – 25th
After the Indiana Gun Show we headed west to St Louis to see the factory where the Van was made. Took some photos and headed south to a Missouri Gun Show then down through Kentucky to Memphis, Tennessee
Blackwood Firearms. MO

Missouri Gun Show

Bass Pro, TN
---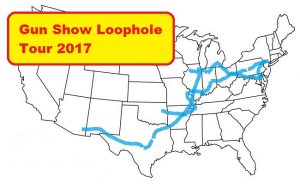 Eighth Leg: Little Rock to Tulsa
Sept 26th – 27th
We headed to Little Rock to see the Titan II missile silos. Sawa few and gave up on being able to visit an, when we met up with Gh0st Tactical & the Owner of a Gun Shop who OWNS the Titan II Silo that blew up. We had the chance to talk with him about the silo while standing on it.
After that we headed west to Tulsa
Action Arms, OK
Bear Beam, OK
Bills Sporting Goods, OK
Green Country, OK
PDQ Pawn, OK
Sports World, OK
---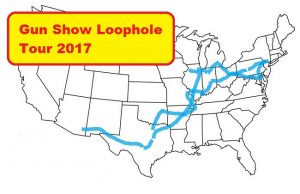 Ninth Leg: Tulsa to Dallas & the Gun Rights Policy Conference
Sept 28th – Oct 2nd
We visited the J. M. Davis Firearms Museum and did another LIVE podcast from there. Then were toured 5 Tulsa Gun Shops and a Surplus Store with P226Nut before heading south to Dallas for the 32nd annual Gun Rights Policy Conference. We also visited gun shops & ranges as well as the Fort Worth Gun Show on Sunday 1,400 tables.
Gun Rights Policy Conference

Rifle Gear. TX (told us to leave)

Runner Runner Guns, TX
G4G, TX
Arms Coat, TX
Shoot Smart, TX
Wild West Pawn, TX

Ft Worth Gun Show
Then we met up with the printer of the Old West Guns Playing Card deck and saw the finished product. Those are already shipping
---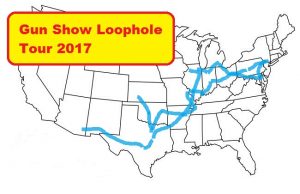 Tenth Leg: Oklahoma City & Dodge City
Oct 3rd  – 5th
After our second visit to Texas we headed north again for our second visit to Oklahoma. The 45th Infantry museum was our destination followed by the museum in Dodge City, Kansas before heading west to Colorado
---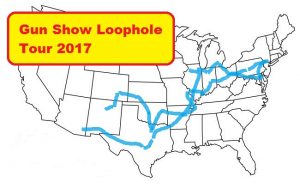 Eleventh Leg: New Mexico & Back to Tucson
Oct 6th – 8th
We drove through New Mexico and visited the NRA's Whittington Center, Shooting Range complex & museum before visiting a Gun Show in Albuquerque
Then a quick 8 hour drive back to Tucson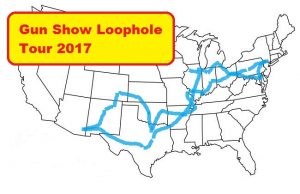 ---
---
Original Destinations
San Antonio
Dallas
Tulsa
Dodge City
Colorado Springs
Denver
Salt Lake City
Las Vegas
Phoenix
(Visited 572 times, 1 visits today)